1965 Fiat 500 F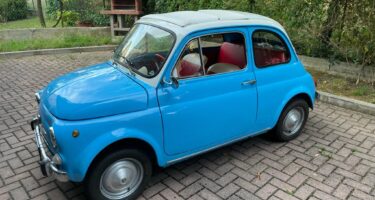 Colore:
Light Blue and White
We are offering for sale a splendid 1965 Fiat 500 F totally restored.
The last owner wanted to give his car new life, making it shine in its beauty: engine overhauled, brakes redone, gearbox replaced, tires.
It was completely repainted even the interior was reupholstered so the condition of the interior finishes are good.
It is fully functional and ready for immediate use.
Last service was carried out in 2020 during which a battery change was made, while the last revision was carried out in 2021.
MAIN FEATURES:
First registration: 1965
Body color: Light Blue and White
Interior color: Red
Kilometers: 53000 km
500 cc
Manual gearbox
Paint condition: excellent
Mechanical condition: fully functional
Condition of the electrical system: In perfect working order
Not-original registration certificate
Not original license plate
DEFECTS:
Paint imperfection: some scratches on the paint, but not very visible
For any information, do not hesitate to contact us
It is possible to ship the car all over the world. For a cost estimate, indicate the location.
Note: This car is sold directly by the owner who is responsible for the accuracy of the photos and information contained in the advertisement, for this car, Garagefiat500 is only providing advertising space. After paying a deposit, the seller and the buyer will be put in direct contact with each other. In any case, Garagefiat500 will continue to provide support throughout the sale – purchase phase, furthermore Garagefiat500 will be able to provide, upon request, assistance in handling paperwork for transfer of ownership or export, and organize their transport.
EXTERIOR
INTERIOR
MECHANICS
Ti potrebbe interessare…
Questa bellissima Fiat 500 R del 1972 è un'iconica city car. Il modello R, in particolare, è l'ultima serie prodotta della Fiat 500 nella versione che tutti conosciamo. Dipinto in un bel "rosso corallo". Matching numbers: Il motore è quello montato dalla casa madre al momento della produzione di questo esemplare
12.500,00

€