1972 Fiat 500 moretti minimaxi
1972 Fiat 500 moretti minimaxi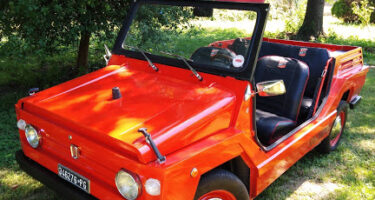 ---

| | |
| --- | --- |
| Brand: | Fiat |
| Model: | 500 moretti minimaxi |
| Year: | 1972 |

| | |
| --- | --- |
| | |
| Engine size: | 499cc |
| Gear box | No Syncro |

| | |
| --- | --- |
| Restored | Yes |
| Vehicle inspected: | No |
| | |
Description of defects found: Not found anything in particular
Other/Notes:
We offer for sale a beautiful Fiat 500 moretti minimaxi from 1972.
The car has been restored in all its parts, it has been regularly overhauled with a deadline of 2024.
As you can see from the photos, everything is removed in the summer and closed with a hood and doors in the winter.
The car has no problems, the engine is new with the original non-synchromesh gearbox.
The car runs perfectly.
The last owner uses it regularly for gatherings and small trips!
MAIN FEATURES:
First registration: 1972
Body color: Red
Interior color: Black
Paint condition: yery good
Mechanical condition: fully functional
Condition of the electrical system: In perfect working order
For any information, do not hesitate to contact us
It is possible to ship the car all over the world. For a cost estimate, indicate the location.
For every classic Fiat 500 sold, we will plant an olive tree in Salento. You will be able to give a name to your olive tree, and the first year you will receive 1 liter of extra virgin olive oil. find out more.
GALLERY