No commitment
"Before committing, it is essential to check the administrative situation of the classic Fiat 500. "
Obtain, within 2 days or at most 2 weeks *, an official certificate issued by the ACI, stating whether the classic Fiat 500 is pledged or mortgaged, and providing the total number of owners, as well as the contact details of the current owner.
Note: if the administrative situation of the vehicle in Italy is not regular, the cancellation cannot be carried out and it will not be possible to obtain the original canceled documents required for registration in your country.
* If the classic Fiat 500 has had only one owner, or has belonged to the same owner for a long time, it may be that the vehicle has not been entered in the electronic registers. It will therefore be necessary to search the paper records and this will take more time.
Related products
This 1967 Fiat 500 F has some characteristics that make it particularly interesting for fans of classic cars and for those who love sporty driving. The engine is a 650cc twin cylinder, equipped with a Dell'Orto FZD 32/28 carburettor and a machined cylinder head with 35/30 valves. The compression ratio is 10.8:1 and the sporty camshaft, balanced rotating mass and lightened flywheel ensure very responsive driving. The car is equipped with an original Supersprint exhaust, which allows for a very pleasant sound, while the 4.5-litre aluminum oil sump and Motul 300V 15w50 competition oil guarantee adequate lubrication. The engine power is 40hp at 7000 rpm, and the maximum speed that can be reached is 145km/h in 5th gear at 6,800 rpm, thanks also to the close-range 5-speed gearbox.
€

16,500.00
Sold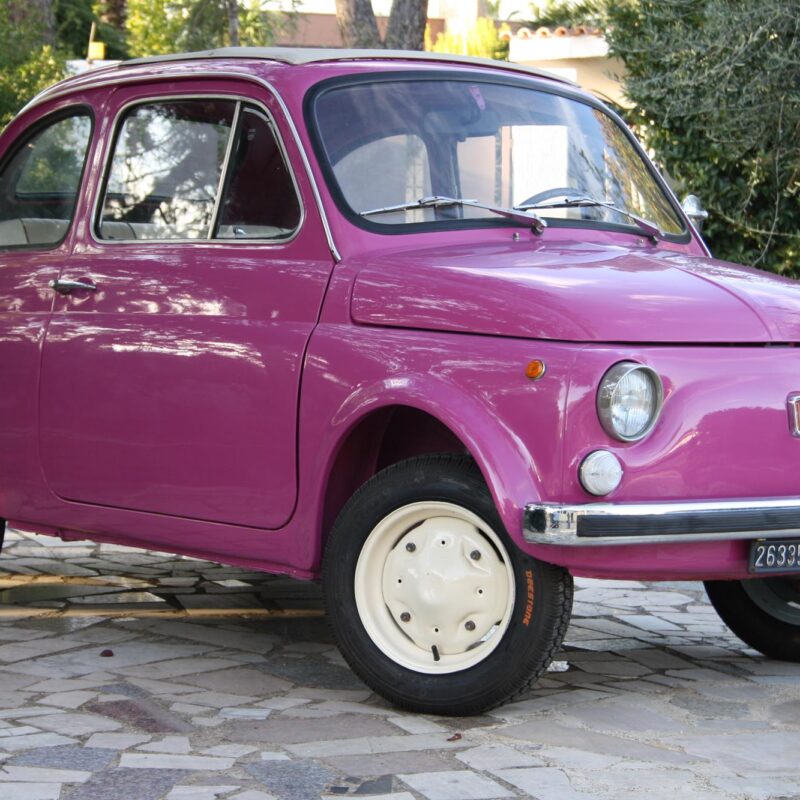 This is Penelope and it is a Fiat 500 with a great personality. She is one of those Fiat 500s that never goes unnoticed, as long as there is a Fiat 500 that goes unnoticed😊. Penelope is a unique Fiat 500, and was the partner of an Italian student who, after graduation, moved to England. It is fitted with a 595cc 126A engine which makes it more responsive to drive. In addition, the synchronized gearbox allows you to steer the car in traffic with much more ease.
7.500,00

€
Sold
A beautiful 1970 Fiat 500 F. The engine and gearbox have been refurbished, the car has been restored and has hardly been used. The car has no rust.
€

11,800.00