1972 Fiat 500 R rosso corallo
1972 Fiat 500 R rosso corallo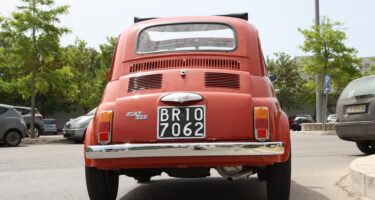 This beautiful 1972 Fiat 500 R rosso corallo is an iconic city car. The R model, in particular, is the last produced series of the Fiat 500 in the version we all know.
Painted in a beautiful "rosso corallo".
Matching numbers: The engine is the one mounted by the parent company at the time of production of this specimen
This 1972 Fiat 500 R rosso corallo belonged to a lady who worked in the city hall of the municipality of Brindisi. It can be said that this car has never been out. In fact, the previous owner, to go to work, took it out of her garage and, after making the journey to get to work, parked it inside the garage in the city hall.
Purchased a few years ago by a coachbuilder, this Fiat 500 R has been completely disassembled and restored to its old splendor.
Today it is in perfect condition and, without exaggeration, it is a Fiat 500 in concours condition.
This Italian classic is sure to make its next owner smile every time he gets behind the wheel.
MAIN ASPECTS
A great example of the fascinating Italian city car, presented in perfect condition.
It is powered by a 499cc twin-cylinder engine, paired with a four-speed manual gearbox.
The odometer currently shows 10,107 km.
Fitted with chromed rear-view mirrors
Two fog lights were mounted on the front bumper.
CONDITION
The Fiat 500 R is in excellent overall condition. The paint is perfect.
All systems work perfectly
To conclude, I believe that this 1972 Fiat 500 R is a car suitable for those looking for a car without compromise, perfect in all its parts, simply for those looking for a gem to be included in their collection.
For every classic Fiat 500 sold, we will plant an olive tree in Salento. You will be able to give a name to your olive tree, and the first year you will receive 1 liter of extra virgin olive oil. find out more.
EXTERIOR
INTERIOR
MECHANICS AND HOODS